Datapaniked in the Year 2005: A Look Back at One of the Best Labels of the 90s
by Justin CollectorScum

People always ask me if I'm from Ohio, and are usually surprised to hear I've only visited once. My obsession started circa '93 when the first record by the short-lived Pet UFO was sent to my high school's radio station. In hindsight, that record sounds pretty dated (although I recall someone at Flipside called it as important a debut as the Germs "Forming"...only time will tell) but it came with a press release playing up Columbus as the next big scene, specifically highlighting MRR's declaration of the New Bomb Turks first LP as the best punk record of previous five years. I picked up the album soon thereafter, and was hooked. Tracking down a year or two's worth of NBT records (surely a half-dozen or more, given how prolific they were in the beginning) wasn't very hard, with one exception: their first couple records on Datapanik. It seems that even as the records were coming out, people were recognizing it as one of the most important labels of the 90s. But thanks to eBay, and a little passing of time, a single that once went for $20 can often be found for a single $5 bid (with major exceptions of course.) Here's a buyer's guide for the uninitiated.

Before we start, there are two quick notes about my collector scum info. First, despite doing more research on these records than anyone else out there, I'm still sometimes in the dark when it comes to accurate info regarding pressing numbers. Someday I'll see if the people at Mus-i-col, where all of these were pressed, kept printed records and are willing to share them with me, but for now a mix of talking to the major people involved and looking at the info on the records themselves will have to do. And secondly, there are often so many variations and nuances for these pressings that I'm sticking with the basics here. For more info, including pictures of everything, please see my discography at http://www.CollectorScum.com/datapanik

Working (roughly) chronologically:

Boys From Nowhere / Two Hour Trip - split 7"
From 1990, where it all began. With two then-current Columbus bands playing covers of Ohio 70s proto-punk classics, this was originally intended to be a give-away with a zine by first Datapanik label-head Craig Regala. Somewhere along the way, the zine was forgotten and a label was born. Boys From Nowhere had been around since at least the mid-80s, putting out a number of solid garage-tinged singles and an album. Their high-energy cover of Mike Rep and the Quota's "Rocket to Nowhere" is in my opinion the best thing they ever did. Chuck Warner of Hyped 2 Death once accurately said that you need to hear this (hi-fi) cover in order to fully appreciate the (lo-fi) original. Two Hour Trip were a pre-Greenhorn, pre-Gaunt band whose only recorded output is this straight-forward, but solid cover of Peter Laughner's "Dear Richard". It seems this record was always hyped to collectors primarily as the label's first release, but it's definitely in the top half musically of the label's output and well worth owning. Scum info: 650 numbered copies, but probably more total pressed since there are 25 numbered promos plus un-numbered ones out there. The xerox covers are usually on white paper, but at least a couple very low-numbered copies are on blue. There's also some slight variations to sleeves, especially on the promo and low-numbered ones, probably because they were made in small batches to start.
Thomas Jefferson Slave Apartments / Monster Truck Five - split 7"
The label's second release from 1990 was again a split, this time debuting two of the major bands from the 90s Columbus Cowtown scene. TJSA, with former Great Plains front man Ron House, contribute two great tracks: "Bottle Island" (later covered by the New Bomb Turks on a single) and "Unholy Trophy". House is probably best known for his distinctive voice, but his greatest strength through all his bands is the songwriting. Guitarist Bob Petric is one of the few guitarists I really like whose playing incorporates more hard rock and metalish techniques. He's not afraid to use the whammy bar, but it somehow works. Monster Truck Five were a brutal noise-punk band featuring the late Jack Taylor (Gibson Bros., '68 Comeback) on guitar. They contribute three short blasts: "It's Come to This", "Stonefinger", and "Piece of Work". This is the first absolute must-have on the label. Scum info: Depending on how you look at it, maybe 700, 800, or 1500 pressed. Some copies are numbered out of 700, some of 800, and some black vinyl ones are not numbered at all. Yellow vinyl copies are always numbered below 100, implying either 100, or maybe 200 pressed if one assumes two pressing for 1500 total. But colored vinyl on this record seems to turn up a lot more than other Datapanik records. There was even some rumors of a "bootleg" pressing, but despite the popularity of this one, it seems unlikely. My vote is for 100 yellow plus 700 black, but I wouldn't be the least bit surprised if proven wrong.
Thomas Jefferson Slave Apartments - Career Interruption Code 7"
Next up in 1991 is the Slave Apartments with a 4 song EP: "Please Hear My Plea", "Tornado", "Spasm of Morality", and "Up For Two Days". More great stuff, and another must-have. The band went on to release a number of singles on labels like Bag of Hammers and Siltbreeze, and three albums, including "Bait and Switch" on American Records' short-lived subsidiary Onion Records -- a record that I easily consider one of the top 10 of the 90s. Scum info: 1000 pressed including 300 on red vinyl. Red is fairly tough to find, so I wouldn't be surprised if 300 is inflated.
Girly Machine / Pica Huss - split 7"
There's no date printed on the fourth Datapanik release (which may actually be the third, according to one of the sleeve variations) but going by the order, this one is also 1991. Again, a return to the split single format, with Bob Petric's other band Girly Machine playing "With You" and "O.K." As much as I like Bob's guitar playing, I've never been able to get excited about this band, mostly due to the singer's UK/indie stylings. Pica Huss, featuring Craig Dunson, who is better known for his production work, is on the flip with "Middle East Song". I've always felt they were a decent band, certainly better than Girly Machine, but are also more on the indie side, and are skippable if you're looking for punk rock. Scum info: Probably 1000 total, including 100 on red vinyl. This record is a nightmare for completists, as there are three different sleeves: the "logo" sleeve (black vinyl numbered edition of 625, at least four different colors of paper, and at least two different designs inside), the "fetish" sleeve (red vinyl numbered of 100, but it's also been seen on at least one very low-numbered black vinyl copy), or the "breasts" sleeve (black vinyl only, probably 275 copies made.)
Big Red Sun - Compulsion / Faintest Clue 7"
Another 1991 release, from a Dan Spurgeon pre-Greenhorn band. Dan's a really nice guy and can certainly sing, but his style is just about the opposite of punk rock, so they're of little interest to fans of most of the rest of the Datapanik roster. Scum info: 700 total pressed, consisting of 600 numbered black vinyl copies in white sleeves plus 100 numbered red vinyl ones in light green sleeves (although there may have been an overrun, since there is a #101/100 on red).
Gaunt / New Bomb Turks - split 7"
A monster from 1991, and easily the most important record on the label. This was the debut of the two most successful (and perhaps best, but I have a hard time putting TJSA at #3) bands on the label. Gaunt kick it off with two tracks: "Volcano" and "Valentine". These songs are both a bit slower than their later work, and you could almost say they haven't found their sound yet, but their cover/reworking of a very old song ("My Funny Valentine") is actually one of my favorite Gaunt tracks. The Turks also clock in with two tracks: "Tail Crush" and "Out of My Mind". The first is a slower/rougher version of a track that later ended up on their debut album. Another must-have, if that's not already obvious. Scum info: At least 600 pressed, including 100 on yellow vinyl. Most black vinyl copies are numbered of 600. All yellow vinyl copies seem to be marked "promo" instead of numbered, but black vinyl promos also exist. Some copies come with one or more stickers, of which many designs exist. An alternate source says 1000 pressed including 150 on yellow. Either way, colored vinyl is very desirable and hard to find, and it's a toss-up whether a yellow Gaunt/NBT split or the TJSA 12" (more on that next) is the holy grail of Datapanik collectors.
Thomas Jefferson Slave Apartments - Can't Kill Stupid: The Free 12" to promote the 7"
It's hard to say where this fits in the chronology, since it has a special catalog number (PRO-001). It was recorded in 1991, but released in 1992, so I'm putting it between those years in this list. As the title suggests, this was a free record, intended to promote a 7" that ended up never getting released. All you had to do was write to the band and ask for one, and you got it. Six tracks, and all are great: "You Can't Kill Stupid", "Behind Every Good Woman", "Big Baby", "Emphasize", "Edge Central", and "(I Can't Get No) Catharsis". All the covers were silk screened by Eric Barth and Jeff Regensburger of Gaunt, and there's a lot of variation in them, especially the colors. No two seem to be exactly alike. While it's hard to pick a favorite on the label, this is it for me. The mix of the music, packaging, and concept can't be topped. Scum info: 300 pressed, all on black vinyl with hand-stamped labels. So while it's not as rare as some of the colored vinyl variations, it is overall the rarest release on the label. Even harder to find is the Datapanik T-shirt that was screened with the leftover ink from these covers.
Greenhorn - The Progress / A Bit of Real Sadness 7"
More from Dan Spurgeon on this 1992 release. Unlike most anyone else on the label, Greenhorn is still playing today, although not non-stop since the early-90s, as Dan had a stint in the Bush League All-Stars. Scum info: 500 numbered copies, including 100 on yellow vinyl with hand-colored sleeves (with some overrun, as there are colored copies with letters instead of numbers)
Various Artists - Bumped by Karaoke: Datapanik's Greatest Hits Vol. II CD
Here's another one that's hard to fit in the chronology, but the CD is dated 2/92 around the bottom of the inner ring, and the sleeve for the Greenhorn record above refers to it as coming out in March. This was the first non-vinyl and first full-length release for the label. The bands were a mix of established Datapanik groups (NBT, Gaunt, TJSA, MT5, Girly Machine, Pica Huss, and Greenhorn), other Columbus acts who released records on other labels (Mike Rep, Stupid Fucking Hippie, Appalachian Death Ride, V3, and an offshoot of that band called Shepard/Cicirella) and other locals who I believe appear only here (Blood Family, Boy Scout Love Triangle, and the G-Spot Tornados, although they had an appearance on at least one other obscure Columbus CD comp.) Highlights are two exclusive Gaunt tracks, "I Believe (in None of This)" and "She's Got It". The Turks contribute three early, rough versions of songs from their first LP, "Long Gone Sister", "Spinnin' Clock", and "Sucker Punch". The Slave Apartments tracks are great, but are repeats from the 12". Mike Rep makes his only appearance as a musician on Datapanik (he produced or "Lovingly Fucked With" a lot of the label's output) with a great cover of Roky Erickson's "Creature with the Atom Brain". Another longtime Columbus underground music fixture, the late Jim Shepard, also makes his only Datapanik appearance with two tracks, including a good, heavy track from the often inconsistent V3, this time sounding closer to the greatness of his earlier group Vertical Slit. Scum info: 1000 pressed. At one point I considered this to be the hardest-to-find Datapanik release, probably because rare vinyl is offered up for sale a lot more than rare CDs, but eBay changed all of that.
Gaunt - Fielder's Choice 7"
Also from 1992, here is where you might say Gaunt found their sound, with three great tracks: "Pollution", "Revolution", and "Suzi". For those who don't know the band, Gaunt went on to a number of full-lengths, mostly on the Thrill Jockey label, with a one-off on AmRep, and a final way overproduced record for Warner Bros, who dropped the band not long after its release in 1998. Three year later, singer/guitarist Jerry Wick was killed in a hit-and-run accident while riding his bike. His memorial show was the thing that finally got me to visit Columbus. Scum info: 1000 pressed, including 150 on red vinyl. Some promo copies include a photocopied letter as an extra insert. While this one isn't particularly difficult to acquire (at least on black vinyl), good luck finding one of the silk-screened t-shirts or posters the band made for the release.
New Bomb Turks - So Cool So Clean So Sparkling Clear 7"
Gaunt got their own single, so it only follows that the Turks do the same, also in 1992. There are four tracks, with two originals ("Cryin' into the Beer of a Drunk Man" and "Let's Dress Up the Naked Truth") and two covers (the Nervous Eaters' "Just Head" and Radio Birdman's "Do the Pop"). This record is so good that Australia's Dogmeat records reissued it (originals have a black and white cover, while the reissue has the NBT logo in red.) The Turks story should be well-known by all by now: a couple dozen singles, a half-dozen albums with a few on Epitaph, and tons of touring, all over 10+ years. The debut album on Crypt Records, "Destroy Oh Boy!", still kills everything in its path. Scum info: 1000 pressed, including 150 on green vinyl.
Blue - King Faggot Man 7"
In 1993, Chad Van Wagner took over the reins from Craig Regala, and released the first non-Columbus band on Datapanik. Blue were a good noise/punk band from Philadelphia who other than this release, did three singles for other labels and one album, all in the early-mid 90s. I'm not sure what the Blue-Columbus connection was, but the Turks covered one of their songs ("We Need More", a demo recording found on their first singles/extras comp.) Besides the title track, the tracks are "Long Faced Woman", "Do-Do", "Hush Thruster", and "UB Roy". This is a pretty solid record, especially if you're a fan of the genre, but seems to be largely ignored, perhaps due to title and disgusting cover art. Scum info: 500 pressed, all on blue vinyl, except for about 30 copies on black, most of which are probably still in Chad's possession.
Girly Machine - 65 Seconds / Swamp Monster // Atmosfear 7"
Chad's second release, again from 1993, was a whole single from Girly Machine. Like the earlier split with Pica Huss, this is more a record for the completists. Scum info: just like the above, there were 500 all on colored vinyl (this time a greenish-clear) with 30 or so not-really-released black ones. However, due to a pressing error, about 5 were made on the blue vinyl from the Blue pressing. Good luck finding one of those.
Various Artists - Ubu Dance Party: A Tribute to Pere Ubu 2xCD
The final Datapanik release, a double CD set of Pere Ubu covers, was long-delayed, not coming out until 1997 (despite the 1996 references on the packaging.) 38 bands contribute one track each, and obviously this is of most interest to Ubu fans. It suffers the same problems as every tribute comp, which is to say it's wildly uneven and the originals are usually better than the covers. Some tracks of note by earlier Datapanik bands are the New Bomb Turks doing "Life Stinks", Blue covering "30 Seconds Over Tokyo", and a Gaunt track credited as "...", which is actually a re-equalized version of their song "Solution", a sort of answer song to Ubu's "Final Solution". The title of the track was blanked out because the original title of the CD was supposed to be ""No One Does Final Solution". Other tracks of note are Pet UFO (where this all started for me) covering "Race the Sun", Quazimodo with a punked-out "Non Alignment Pact" and the Rainy Day Saints doing justice to "Heart of Darkness". Some of the other bigger names on here are Brainiac, Scrawl, Cobra Verde and the Ass Ponys. Scum info: who knows and who cares? Although it's worth noting that it's out-of-print and can be difficult to find.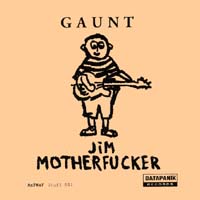 So that's it: 14 releases over 4 years (I prefer not to count the delay of the final one). However, the Datapanik logo did appear on three early (all 1992) releases by Columbus Ohio's Anyway records, run by Bela Koe-Krompecher, with Jerry Wick as more of a silent partner. It's not quite fair to call these co-releases, as Craig Regala had nothing to do with them. He just lent the name to help kick start the new label. Anyway 001 was perhaps Gaunt's finest moment, the "Jim Motherfucker / Spine" single. 500 copies, all black vinyl with covers xeroxed on enough different colors of paper to drive any completist crazy. Get Hip later reissued this with a full-color cover and early copies on creamy-yellow wax. Anyway 003 was another Greenhorn single, "Conversations With Myself / Callous", which was also a 500 press, but by this point Anyway was doing the first 100 on colored vinyl (green in this case, of course). Anyway 005 was the Cowtown Vol. 1 7" compilation, most notable for Gaunt's "Sad Song", but also featuring Belreve, V-3, and Greenhorn. The label eventually released four Cowtown volumes, and still occasionally releases records (well, more likely CDs) today.
And finally, there were a few Datapanik related CD-only releases on other labels. "Shave the Baby: Datapanik's Greatest Hits: Volume 1" (Engine Records) was a compilation of some of the early singles, although some good tracks, like Gaunt's "Valentine" are missing. Even if you have all the records, it's worth owning for the uncredited final track, Great Plains' "CLE '75". "Sound of Poverty: Anyway Singles 92-93" (Get Hip) is the first seven Anyway singles in their entirety, including all the Datapanik branded co-releases noted above. It also includes another Monster Truck Five single, and Cowtown Vol. II which featured good tracks by NBT and the Bassholes. Finally, the Thomas Jefferson Slave Apartments reissued all their Datapanik era tracks as "You Lookin' For Treble?" (Year Xero). Unfortunately two of the tracks from the 12" were mastered off a slow, scratchy record (making owning the original a must) but they made up for it with five previously unreleased songs. All of these are out-of-print, but can be found, easily in the case of the comps, perhaps harder for the TJSA disc.
Questions, comments, corrections, or looking for help finding any of this stuff? Email Justin at datapanik-at-CollectorScum.com, and be sure to check out collectorscum.com as a whole.


---
Got a city, time period, region, label, genre or whatever that you think we need to do a field guide to? Think you can do it yourself? Send all requests and submissions to termibore-at-aol-dot-com, we're always looking for quality help.

To check out past TB Field Guides go here.
---
PREVIOUS PAGE • HOME • NEXT PAGE
---